Wie niet bekend is met de Sharknado films bewijst zichzelf een dienst door daar snel verandering in te brengen. Hoewel niemand de reeks zal classificeren als ware cinema, of een kunststukje dat onze tijdsgeest behelst, is niet te ontkennen dat de films lowbrow entertainment van de bovenste plank (ok de middelste plank) zijn. De films proberen nergens meer te zijn dan een belachelijk idee waar met een klein budget het maximale is uitgehaald, en dat zorgde ervoor dat ik beide delen op 1 avond in 1 zit heb afgekeken. Soms ademloos, soms met de slappe lach, maar vooral blij dat er tegenwoordig ruimte is voor zelfbewuste -meta- C-films waar Ian Ziering (het blonde sulletje uit Beverly Hills 90210) de kans krijgt om zijn geld te verdienen met acteren.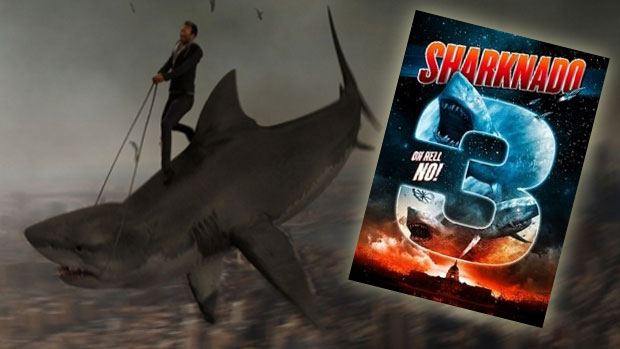 De aankondiging dat er een derde deel op komst is werd dan ook met gejuich ontvangen in huize Zentveld. Op 22 juli (toevallig mijn verjaardag… of niet zo toevallig?) wordt Sharknado 3: Oh Hell No gelanceerd en op Mashable is te lezen wie daar allemaal hun opwachting in maken (naast de terugkerende Ian Ziering, Tara Reid en Cassie Scerbo). De lijst met C- en zelfs D-list sterren is uitgebreid en ik kan eerlijk gezegd niet wachten tot Jerry Springer een salto maakt en in de opengesperde bek van een haai belandt – om zichzelf er vervolgens met kettingzagen (als vervanging van zijn benen) weer uit te worstelen.
Bekijk hier de (niets minder dan fantastische) teaser trailer.